This Workshop explores the issue of "Absent Citizens" in Kampung (urban settlement) in Surabaya. We will focus on diverse existence of the neglected urban citizens such as migrant workers, minority (and/or discriminated) race, the poor, people and community in forced displacement, elderly or disabled people, and etc. Unfortunately, we tend to shut our senses to recognize voiceless expectations of them, especially in the era of massive urban growth.
Kampung Tambak Bayan is the project site of the workshop. This urban settlement was formed by a migration of Chinese workers about four generation past from now. There has been known as a manufacturing community of timber furniture, but through the transformation of form of urban industrial structures, majority of residents has been leaving from their traditional business. At the same time, this urban community has been facing with critical problems in "forced displacement issue" that generated by urban redevelopment project. This is still in the court battle process but residents are living with unrest and struggle toward their uncertainty future. This is a typical phenomenon of change of living in urban settlement under the massive and rapid urban growth and many cities in developed countries had already been experienced this.
In the 6 days workshop, we will deeply dive into the site with tools of visual documentation in order to recognize diverse signs and appearance of Absent Citizens. Workshop expects participants to create visual works to reflect their own way in responding to the Absent Citizens in contemporary Asian cities. Actions of documentation and analysis would be implemented by participants, through intimate and deep communication with residents and community of Kampung.
Documentation will be done by video, photo, drawings and/or any other "visual" actions. In the end of workshop, all documented materials done by each would be integrated into "public media" that can be distributed in Kampung as a tool to redefine and empower Kampung and its community. It could discover and introduce both hidden problems and possibilities of urban living in emergent city.
Facilitators:
Kenta Kishi (Architect / Co-director of OHS / Japan)
Bintang Putra (Social and Economic Activist / Co-director of OHS / Indonesia)
Guest Reviewer:
MAD Cahyo (Architect, Social Activist / Indonesia)
Kentaro Taki (Video Artist, NPO VIDEOART CENTER Tokyo / Japan)
Rie Saito (Art-Sociologist, Ph.D. Candidate, Waseda University / Japan)
Aditya Adinegoro (Media and Cultural Studies Scholar, UGM Yogyakarta / Indonesia)
Venue:
Kampung Tambak Bayan, Surabaya / Indonesia
Date and Duration:
31 July - 05 August, 2015 | Six days
Register:
Send your name, title/occupation, and phone number to [email protected]
Registration fee:
Indonesian registrant:
Under/Post graduate students = 300.000 IDR
General = 500.000 IDR
International registrant = 100 USD
Benefits:
Official ICCI Certificate of Accomplishment.

Best results will be presented and discussed in the 2015 ICCI International Conference.

Allowance to participate in the 2015 ICCI International conference in Bali, for best workshop results.

Opportunity to expand your networks internationally.

Coverage in ARCHINESIA bookgazine and ayorek.org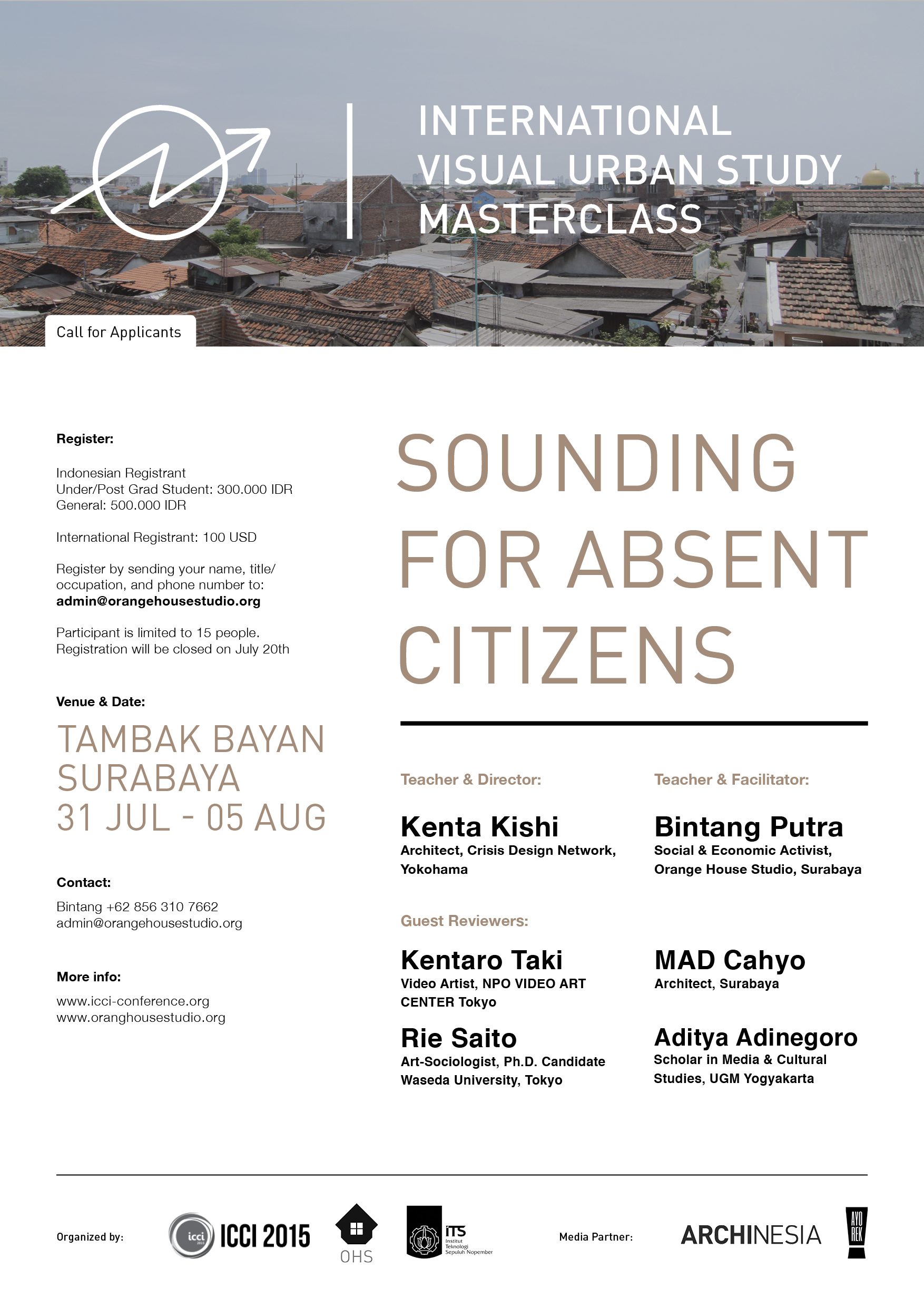 Schedule:
| | |
| --- | --- |
| Jul 31, Fri | Introduction + Brainstorming Discussion + Sight seeing |
| Aug 01, Sat | Fieldwork + Discussion |
| Aug 02, Sun | Fieldwork + Production Works + Discussion |
| Aug 03, Mon | Production Works + Discussion |
| Aug 04, Tue | Production Works + Discussion |
| Aug 05, Wed | Presentation + Review + Discussion |